To have the content of our learning programs read aloud, you can use a Google Chrome read-aloud extension. Below you can read how you can use it on our platform. Don't have this browser on your computer yet? You can download it here for free.
Open Google Chrome and go to the extension via this link. You can also look up the extension itself via the Chrome web store. If you do, search for: 'Read Aloud: A Text to Speech Voice Reader'. Of course, you can also choose to use another reading extension from the Chrome web store.
Next, click the blue 'Add to Chrome' button.



The extension will now be installed. Sometimes an extension needs certain permissions for your device. In this case, you can click on 'Add extension' to approve this. Note: only add extensions you trust!
Usually, the extension is hidden behind the jigsaw puzzle button at the top right next to the address bar. Click the jigsaw button and subsequently the thumb tack to have the extension pinned right next to the address bar.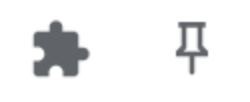 You can now go to your academy and log in. Open the course you are going to work with and click on an assignment. As soon as you click on the extension icon next to your search bar, the extension will start reading the text on your page. You can then click pause or stop if you want to stop the reading. Click on the 'play' icon and it will continue reading aloud.
Manage extension
You can manage the extension by clicking 'More', 'More tools' and then 'Extensions' buttons at the top right. Here you can, for example, enable or disable your extension or grant access to certain sites. For more detailed instructions or more questions about Chrome extensions, you can also visit the Google support page.
Remove an extension from Chrome
Are you not satisfied with this extension? You can easily remove it from your browser. All you need to do is right-click on the Extension logo next to your address bar. A menu will appear that includes the option 'Remove from Chrome'. Click on this, and then on the blue 'Delete' button.
Always check if you are currently using the latest version of Google Chrome to prevent certain functions/buttons from looking different.