When you start working with our online learning platform for the first time we can imagine you may have plenty of questions. In this article we will give you a general overview.
1. Digital library for courses and exams
On our online learning platform we offer various learning programs and exams. A large part of the content of All You Can Learn consists of optional courses for secondary vocational education, but also generic courses such as 'Citizenship'. Every school year we replenish our library with new learning programs. We develop some learning programs ourselves, but we also create tailor-made learning programs for various educational institutions!
The screenshot below shows a selection of the All You Can Learn offer. It's like Netflix, but for learning! Please note the availability of the courses differs per user and per platform! To view the courses currently available, go to your learning platform and log in.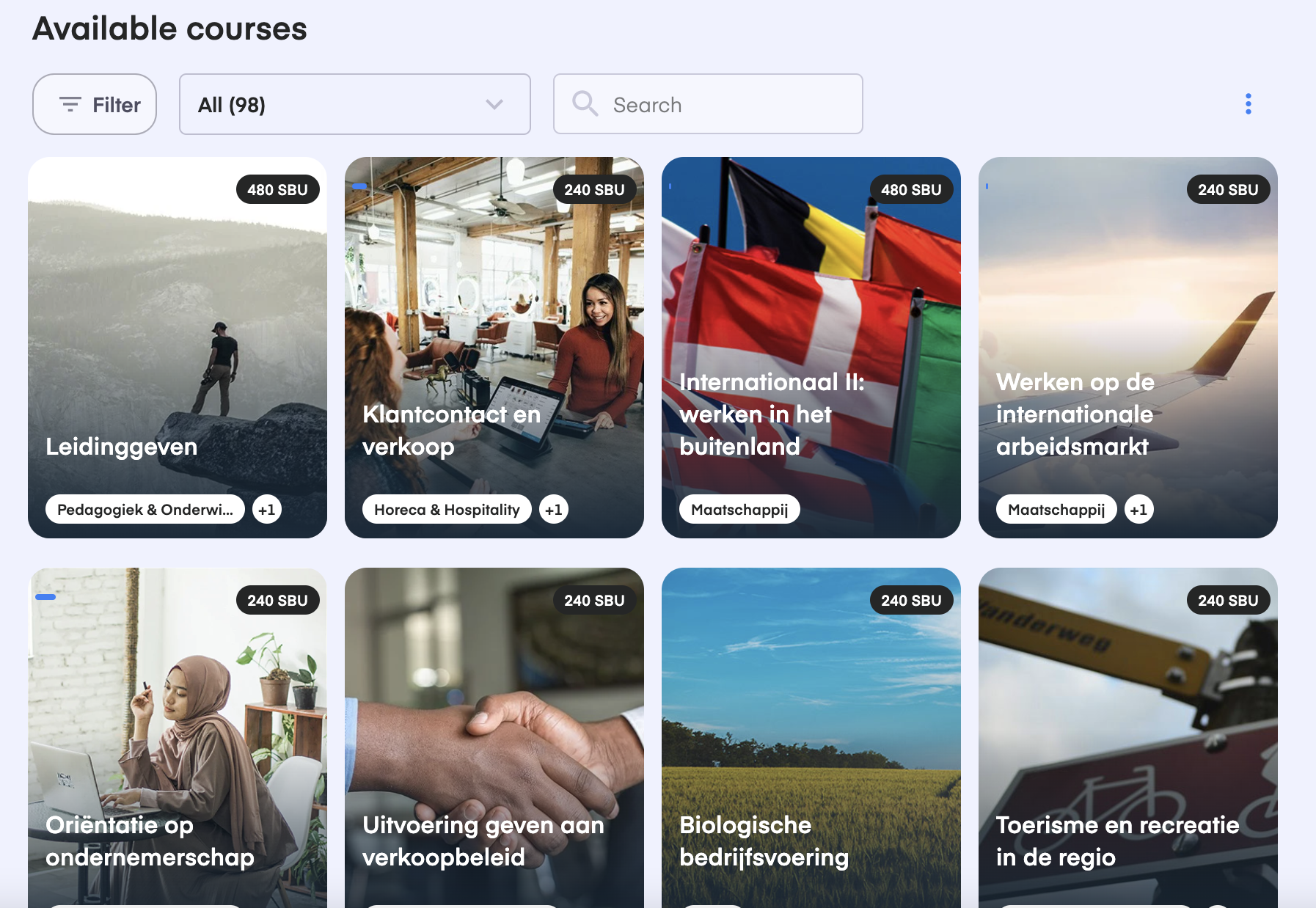 2. Enroll in as many blended learning programs as you want
Our learning platform is based on blended learning. Participants go through various assignments online, but they also receive guidance from a coach. Coaches are often teachers, but they can also be supervisors from a company. Coaches also organize offline meetings and provide suitable working methods.
Within a learning program, a participant independently completes various theoretical and practical assignments at his/her own pace. The participant often also has to hand in something, and in this way the participant builds up a digital portfolio .
All users must have a valid subscription to use the learning platform. With a valid subscription you get access to all our teaching programs and exams. So you can learn anytime and anywhere for a fixed amount!
3. Completing learning programs with a random sample
Before the participant can complete a learning program, the coach needs to review the submitted work. The system automatically generates a random sample of up to 3 assignments for the coach to assess. The participant may only start the final assignment once their coach approves. In this article you can read more about starting and assessing the sample.


4. The exam
You complete the learning program with the final assignment. The final assignment is often an exam, but can also be a different type of assignment. Within the platform we offer exams from certified exam suppliers, such as Exa.men. The use of these exams is included in the subscription, and therefore does not incur any extra fees.
The assessor also grades the exam in the digital environment. Is the exam approved? Then the learning program is complete. Finally, a proof of participation can be downloaded by the coach to hand out to the participant.
FAQ
Is the learning platform also suitable for BBL participants?
Sure. The platform is designed in such a way that education does not necessarily have to be carried out at school. In fact, practical lessons are featured in many assignments. As coaches you can guide (BBL) participants remotely.
What about the privacy of my (personal) data?
We have signed the privacy covenant. Also we sign a data processing agreement with every educational institution we work with. This processing agreement complies with the latest GDPR regulations. In addition, we are ISO 27001 certified.